There are so many things that I'd love to buy the woman who has done everything for me. Even though I don't need a reason to treat her to something special (She deserves it), its very rare that she'll accept anything or let me pay for anything to treat her. On Mother's Day, I like to buy something really special (Hold the flowers and card; they'll be gone in three days) just as a small token of my appreciation.
My mom is like my best friend, and even now as an adult, goes out of her way to help me when I need it. She's constantly buying things for my son to 'help us out', or making me cups of tea when I go round to see her. She does so much for everyone, with sometimes very little appreciation, and I like to take this time to do something special for her (where she can't argue about it!)
From candles and jewellery, to blankets and key rings, I've selected a few of my favourite choices to give to your mother to show her how much you appreciate her…
Yankee Candle, Harmony Shade and Tray (RRP £23.99, yankeecandle.co.uk) – This is a gorgeous pale pink and green mosaic shade, that can be placed over the top of a medium or large Yankee Candle. These colours are the perfect compliment to Spring, and add a pleasant glow to any room. My mom loves burning Yankee Candles, so I know that she'd appreciate the Cherry Blossom Large Jar (£23.99, yankeecandle.co.uk), which is the perfect compliment to the mother of pearl inlaid shade.
L'Occitane Verbena Discovery Collection (RRP £20.00, Johnlewis.co.uk) – This is a gorgeo
us gift set, with one of L'Occitane's best scents. This collection contains 5 travel sized best sellers in a handy wash bag, and is perfect for your mom to pamper herself, or to take with her on a weekend away. Including a bath and shower gel, body lotion and hand cream, this little set is perfect to allow your mom a little time to pamper herself for a change. The Verbena collection is a gorgeous fragrance of citrus scents, and is the perfect touch to show your mom how special she is.
Floral Print Lace Back Pyjama Set (RRP £35.00, Marks and Spencer) – Granted, these are a little pricey for a pair of pyjamas, but look how comfortable they look! Th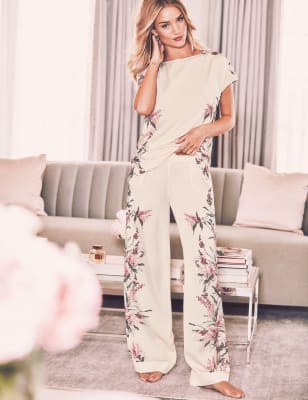 ese are from the Rosie for Autograph range, and are made from the softest fabric. They are perfect for putting on after a hot bath, and preparing for a cosy night in. If your mom is anything like mine, then she doesn't stop working all day long, and by the end of the day deserves to relax a little. These pyjamas will help with that process.
Personalised Wooden Calendar Key ring (RRP £20.00, notonthehighstreet.com) – I actually got my husband one of these for his first Fathers Day last year, so I know its a winning choice! Especially for first time Mums, this is a lovely sentimental gift, something that can be cherished forever. It is a personalised key ring, with a calendar month displayed and a speci
fic date circled. I had the day our son was born in January, with a personalised message for my husband. This particular wooden option is a little pricey, but there are cheaper alternatives that can be found on Ebay, which is where I brought mine from.The one I had is metal, which is a far more expensive looking and hard-wearing option.
With this particular option, you can have a photo of your choice displayed on the other side, which again is great for any first time moms – mother and baby's first photo would be perfect to use here!
Afternoon Tea Treats Hamper (RRP £35.00, Johnlewis.co.uk) – This is a gorgeous gift set that I spotted on the John Lewis website! Presented in a domed wicker basket (that can be reused at a later date) this is the perfect gift for you and your mom to both indulge in. Containing a bottle of champagne and several sweet treats, this is a great picnic option where  you can spend a little time with your mom – perhaps a picnic dur
ing a spa day?
Alternatively, you could use this as a guide to making your own hamper. Marks and Spencer sell some lovely afternoon tea treats – including macaroons – where you can put together your own hamper for a fraction of the price. Not keen on Champagne, or unable to buy it because your underage? Swap it for some sparkling fruit juice; a healthier alternative, but just as tasty.
For Mum Gift Set (RRP £12.95, Lush) – Lush have a great range of mothers day themed products for you to buy individually, but they also do some amazing gift sets, to suit all budgets. This is their cheapest offering, which contains two bath produ
cts for your mom to spend a little time on her own, relaxing in the bath with a good book and a glass of wine. Alternatively, you could also do your own mini hamper with a few of their individual products, depending on your budget. Either way, it's worth checking out their range.
I particularly recommend looking at the Scrumbee body butter, the Upsy Daisy bath bomb and the Your mother should know bubble bar, all of which smell incredible!
Let me know in the comments what gift recommendations you have, and if you're a mother yourself, what you would like to receive for mothers day!