I find it absolutely amazing – even after all these years – that brands still reach out to me to collaborate. What makes it even better is when a brand you've shopped with for years contact you, praising my blog and wanting to send me some items to review.
As I'm currently 28 weeks pregnant (at the time of writing this) and feeling roughly the size of a house I didn't get anything for myself; nothing fits me comfortably, I feel uncomfortable and self conscious all the time, and I didn't want to get anything I really love now to find it won't fit me in a couple of months time. Instead, I decided to get a few little bits for Owen, as he'll be turning 3 in a few months (where HAS this time gone?!?) and is already starting to move up to the next age range.
Parents, y'know how it is. Just when you think you have enough clothes to keep your little rascal kitted out until school, you blink and its already too tight. Yeah, I know the feeling!
I knew River Island stocked baby clothes and on several occasions I've brought T-shirts for Owen, or baby shower gifts for other babies, however my local store doesn't have a Mini section so I always forget, sadly.  They have such a wide range of clothes, shoes, and various outfits; everything is so cute and adorable and such reasonable prices.
The Mini range starts at newborn sizes and goes all the way up to age 5, which is fab. Although Owen spent the first few months of his life in baby-grows and sleep suits for special occasions I had a few little outfits, and River Island have a great selection to choose from. Although some of the outfits can be a little 'grown up' for babies, there are some real gems for older children, and Owen is the perfect age to know what he likes, and is starting to show an interest in dressing himself and choosing his own clothes.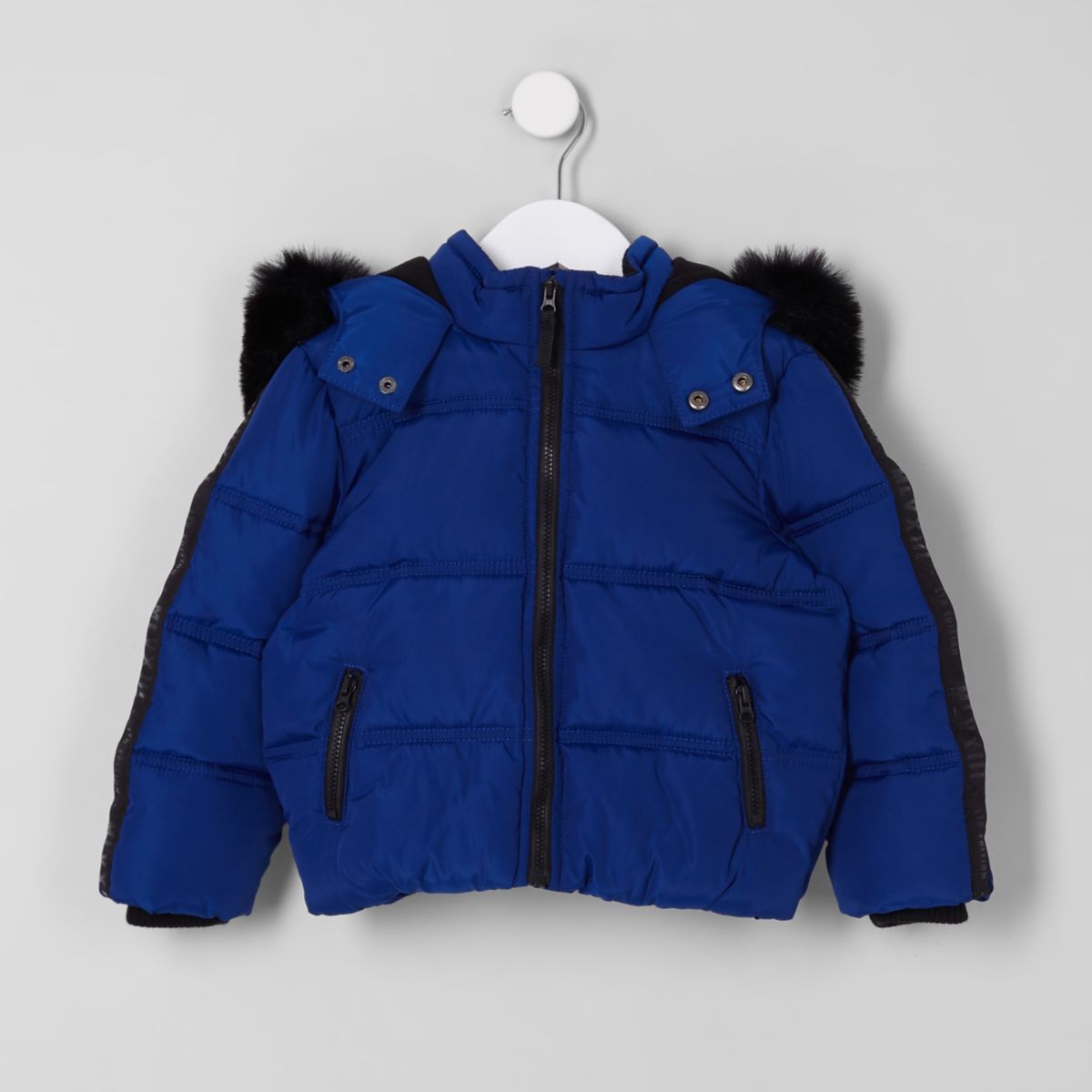 Mini boys blue faux fur hood puffer coat (£38.00, size 3-4)
This bad boy is going to get a LOT of use come wintertime! Owen had a puffer jacket last year too, and it was especially great once we had all the heavy snow. He was out a lot in it with nursery and myself, so something really warm and cosy like this was handy at keeping him warm and dry – no-one wants a poorly child around Christmastime!
This comes with a detachable faux fur collar (handy when it comes to drying it off!), and fits quite loosely so ideal with any additional layers underneath. I especially like the bright blue shade with black contrast stitching – it looks modern and stylish, but also practical.
Mini boys ecru knit tipped cardigan (£14.00)
I almost died when I saw this on their website! Is this not the most adorable thing you've ever seen?!? I had Autumn in mind when I chose this, or those early Spring mornings when it's sunny but crisp. The wool is the softest I've ever felt, and I just love the blue cuffs and emblem; it has a cricket feel about it, and I know Owen will look so smart in this.
Again, the fit is quite loose at the moment, so ideal with any additional layers underneath. One minor thing I noticed is that there is no button to do it up with so I don't know how it'll fit with my very active little boy (or whether it'll just be cast aside when he's playing), but I imagine it'll be easy enough to add a small button and buttonhole if need be.
Mini boys pink short turn-up sleeve T-shirt (£7.00)
Any mother of boys knows that plenty of t-shirts is an absolute must; between painting and play-dough, crayons and grass stains Owen goes through a lot of clothing changes, so I always make sure that there's a healthy number of t-shirts in his wardrobe.
I'm quite picky about t-shirts that I buy him; I hate anything remotely fluorescent or with overly childish designs on, so this is ideal. It's a pale pink shade in a soft and stretchy jersey fabric – perfect for multiple washes – and is equally lightweight and warm at the same time. I can see this being worn during the warmer months on the beach but also layered under other things during the winter.
I've been very impressed with the quality of the items, and know that they'll be durable to withstand even the most boisterous of adventures. A huge thank you to River Island for Owen's gifts; I'll definitely be checking out some more of their Autumn/Winter clothes and with the arrival of Baby no.2 imminent, their newborn range too!
This post was a collaboration with River Island, for which I was gifted the above items for my consideration. All opinions remain my own.