We made it! 12 Blogmas posts on the run up to Christmas! And there is no better way to finish it than with what I'm wearing this Christmas Day.
I'm really excited for Christmas this year. Me and my Husband alternate where we spend Christmas and Boxing Day, and this year it's with my Mom and family.
It's also Emilia's first Christmas and Owen is at the perfect age where he understands EVERYTHING about Christmas; it's so much fun seeing his face when he gets to meet Santa, or sees the Christmas decorations. There's so many traditions that I loved growing up, and I'm keen to introduce him to mine and start developing some of our own!
Plus, nobody does Christmas quite like my Mom. It's so festive and special round hers, and she does the most AMAZING Christmas Dinner. I'm looking forward to seeing her and my Grandad, and Rob can have a few beers with my Dad. This'll also be my Sister's first Christmas as a married woman, so it'll be great to have her and my Brother-in-Law there too. 
My Christmas Day Outfit
Because of all the food and festivities, it's important to wear something comfy and fairly loose fitting! This year I've opted for a little black skirt from M&S in the 'Holly's must-haves'; it's a mid length denim mini skirt (if that makes sense!) and so incredibly comfortable and flattering.
It's an A-Line fit so sits quite high up on your waist, and looks so good when teamed with a jumper or t-shirt tucked into it. And the little belt it comes with is a nice addition to draw attention to a narrow waist.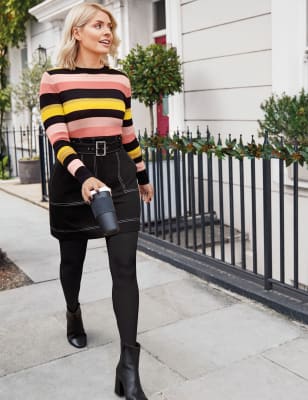 I'll team this with the matching jumper from the collection (seen above) which is a gorgeous mix of yellows and pinks. I'm not a Christmas Jumper kind of person; I do have a couple that I wear, but I much prefer to spend money on something I can wear again, as opposed to once a year. 
And with my thick tights and ankle boots it'll look both smart and practical, whilst still being relaxing.